Lately I find myself having a hard time keeping up with Tasty Tuesday.
I've been able to post recipes, of course, but they haven't had the natural Tish "flavor" that I'd usually like to put into them.
I think some of it has to do with the fact that I'm actually expanding my horizons when it comes to my blog (Busy Bee 🐝) but a lot of it has to do with the fact I'm very busy.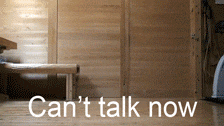 My dog just had ACL surgery, my husband has baseball practice every day after work so I've got to be the one who gets home quickly, I'm working on finishing my masters degree, I'm a teacher who has to grade every day, I've got to workout, keep up with my friends and above all else I'm trying to have time to myself!
The great thing is that as you find time for the things that you love you realize you're less busy than you thought you were.
So my "me" time has become my cooking time. It relaxes me and makes me feel at peace. Everyday, between 4 PM and 6 PM, I'm able to just be "me" and cook up a storm of food, to my hearts content. During this time my husband is doing baseball practice and my dog is chewing on her toys
During this time I can carefully plan, prep and execute recipes. During this time, I can look for inspiration and when it hits, I can jump on it.
These muffins came to me in a moment of inspiration. My husband recently got me the amazing book "Run Fast, Eat Slow" by Shalane Flanagan
and I look to it for constant support when I'm at a loss for creativity.
I also follow a ton of Instagram Savants, and using the inspiration of a Lemon Blueberry Bread I saw and the joy I got from my new favorite book, I put together this quick, easy and delightful Lemon Blueberry Muffin.
They can be sweetened enough to be a dessert (I'll add modifications) but made the proper way, they're perfectly paired with fruit for a clean filling breakfast.
Without further adieu, enjoy.
Blueberry

Lemon

Muffins
Need:
1 cup of fresh blueberries (frozen works too)

1 Lemon (juiced)

2 cups of 100% whole wheat flour

1 cup of rolled oats

3 eggs

1 tsp of baking soda

1 tsp of salt

1 tsp of pure vanilla extract

1/4 (or 1/2)cup of pure maple syrup (decide based on desired sweetness)

3 tbsp of vegan butter (or olive oil butter)
Optional: 1 tbsp of flaxseed to sprinkle on top before baking 1 tbsp of chia seeds to sprinkle on top before baking
How to: 1. In a large bowl mix flour, baking soda, salt blueberries and rolled oats. 2. In another bowl, mix squeezed lemon, syrup, vanilla and eggs. 3. Mix together the wet and dry ingredients. Blend well. 4. Rub oil around each cup of a 12 tin, Muffin tin, or use muffin cups. 5. Fill each tin all the way to the top. 6. Sprinkle flaxseed and chia seeds on top of each muffin. 7. Place in an oven, preheated to 350, and cook for 25-35 minutes, until a toothpick is placed in the middle of a muffin and comes out clean. Serve with honey butter, extra butter, honey or on its own! ♥️
**for an added boost of sweetness, double the maple syrup, add honey or add cane sugar**